CEG MULTIFAMILY BREAKS GROUND ON PHASE II OF THE RESIDENCE AT GATEWAY VILLAGE
Phase II includes new homes, upgraded interior design packages, and amenities for Gateway Village residents.
DENISON, TX – DECEMBER 11, 2020 – CEG Multifamily, a family-owned and operated real estate investment firm based in San Diego, California, together with Covenant Development in Sherman, Texas and Galaxy Builders, Ltd. in San Antonio, Texas, announced today the groundbreaking for Phase II of its upscale apartment homes at The Residence at Gateway Village in Denison, Texas. Phase I of The Residence included the building of 180 luxury apartment homes. CEG Multifamily, which acquired the property in 2019, will now start construction on Phase II, which will feature 96 additional apartment homes of one, two, and for the first time, three-bedroom floorplans, a rare find in the area.
"We see incredible growth and potential in the city of Denison, TX, and believe the Gateway Village development is the future of walkable suburban living," said Jason Meagher, Vice President of Investments at CEG Multifamily. "Our goal with Phase II is to provide even more residents with the opportunity to live within walking distance to all of the retail, restaurant, and recreational amenities that Gateway Village has to offer."
In addition to the new residences, which will be built with Energy Star standards, Phase II includes new Amazon package lockers for seamless package delivery as well as upgraded interior design packages to reflect today's trends. "After conducting extensive market research and considering resident input, it was clear to us that adding more three-bedroom residences was a community need," said Melissa Meagher, Vice President of Design and Development at CEG Multifamily. "Our interior design, sustainable materials, and amenity additions in Phase II strive to meet our industry's ever-changing needs."
The Residence at Gateway Village is located near the intersection of Highway 75 and F.M. 691 inside Gateway Village, a Master Planned Healthy Lifestyle Community that's just minutes away from Texoma Medical Center, Grayson College, North Texas Regional Airport, and Lake Texoma. Parks, walking and biking trails, a splash pod, and team sports fields are all quickly accessible and future residents of Phase II will have access to the clubhouse, community workspace, bark park, fitness center, and pool.
For additional information on The Residence at Gateway Village, please call (903) 415-6737 or visit www.residenceatgatewayvillage.com.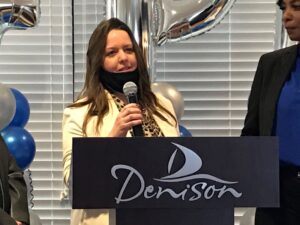 About CEG Multifamily
CEG Multifamily is a family-owned and operated real estate investment firm based in San Diego, California specializing in investments, asset management, and development. Their portfolio holds nearly 8,000 units in California, Texas, New Mexico, Louisiana, and Oklahoma. CEG Multifamily takes pride in its unmatched attention to detail and passion for every aspect of property operations, management, maintenance, and sustainability measures with the goal of nurturing the moments that make their residents feel at home. For more information, visit www.cegmultifamily.com. The Residence at Gateway Village is currently managed by FPI Management, and will continue with the management of FPI Management on Phase II.
See the KXII News Story: https://www.kxii.com/2020/12/12/denison-breaks-ground-on-phase-2-on-the-residence-at-gateway-village/
See the KTEN News Story: https://www.kten.com/story/43062303/denison-showcases-live-work-play-development